Mission Reports
Informes de Misiones
2015 Programs & Accomplishments
2015 Programa y Logros
Our Organization's Primary Purpose

El p

ropósito primario de nuestra organización

Eleos Healing Global Mission is dedicated to proclaim the Gospel and make disciples of Jesus Christ, to give medical care to the sick, and to be a testimony of God's love among the suffering and needy people in rural areas around the world by meeting their physical needs through medical-dental short-term missions; and in Washington, DC metropolitan area through health education, health fairs, food pantries and a weekly worship service and Bible study in Spanish.Eleos Healing Global Mission se dedica aanunciar el Evangelio y hacer discípulos de Jesucristo, para prestar asistencia médica a los enfermos, y para ser un testimonio del amor de Dios entre los que sufren y los necesitados en las zonas rurales de todo el mundo, satisfaciendo sus necesidades físicas a través médico-dentales misiones a corto plazo, y en Washington, DC área metropolitana mediante la educación sanitaria, ferias de salud, despensas de alimentos y un culto de alabanza y estudio de la Biblia en español.

Each year we have sent teams of volunteers on short-term medical missions. Under His blessings, we have treated people of all ages, races and religions with over 4100 patients and preached the Gospel to over 9000 people, in Dominican Republic, Ecuador, Egypt, Ethiopia, Haiti, Mexico, and Peru.Cada año hemos enviado equipos de voluntarios en las misiones médicas de corto plazo. En virtud de sus bendiciones, hemos tratado a personas de todas las edades, razas y religiones, con más de 4100 pacientes y predicó el Evangelio a más de 9000 personas, en la República Dominicana, Ecuador, Egipto, Etiopía, Haití, México y Perú.

Christmas Outreach, Falls Church, Virginia December 19, 2015
Ministerio para la Navidad, Falls Church, Virginia, 19 de Diciembre 2015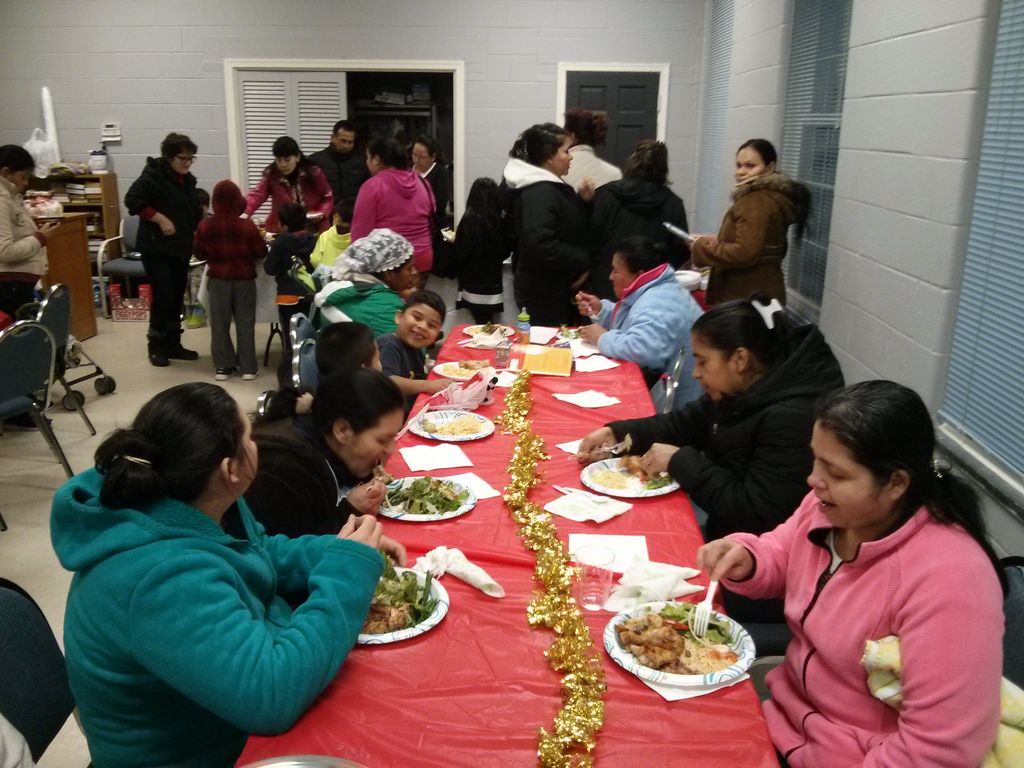 On December 19th, Eleos Healing hosted several needed families for a special Christmas dinner in the Culmore neighborhood of Falls Church, Virginia. All our guests had a turkey dinner, participated in a worship service, hearing Dino teaching from the Bible. Afterwards, guests received a gift bag of food and household supplies. (Click photo for more pictures) En el 19 de diciembre, el ministerio Eleos Healing hospedó algunas familias para una cena navideña en el barrios de Culmore en Falls Church, Virginia. Todos nuestros huepedes cenaron de pavo, y participaron en un culto de alabanza, escuchando a Dino predicar desde la biblia. Después cada de los huespedes se ragalaron con una funda de comestibles y suministros de casa. (Haz click en foto para ver más)
Medical Outreach near Cayambe, Ecuador, November 25-28, 2015
Ministerio Medico acerca de Cayambe, Ecuador, 25-28 de Noviembre 2015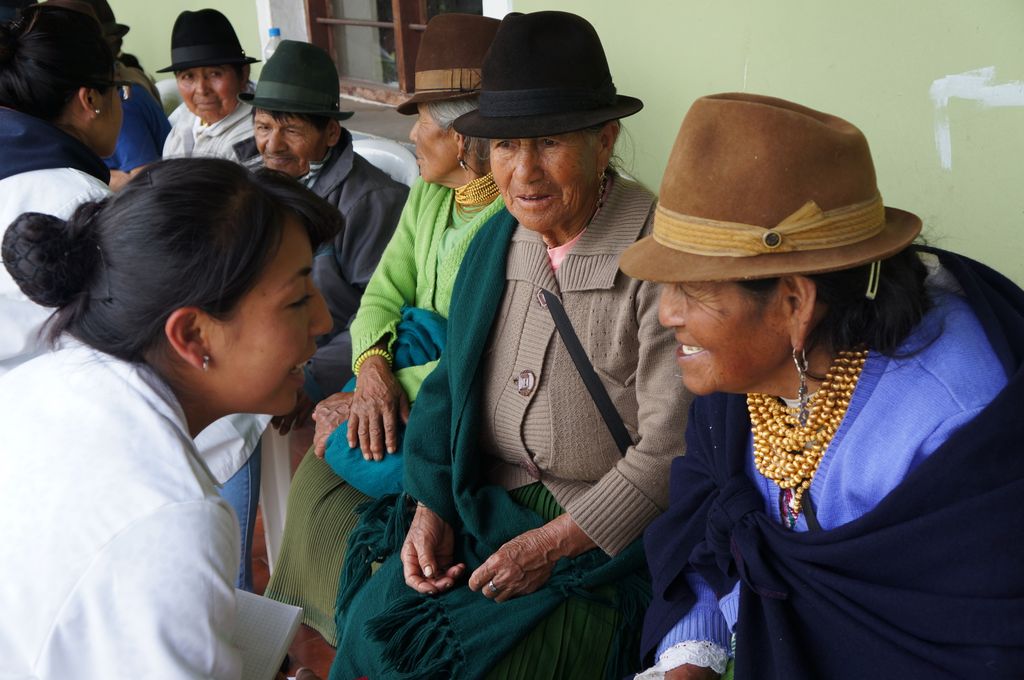 During the Thanksgiving Weekend, we returned to the Cayambe area in Ecuador for three days of medical outreach, with the assistance of forty-five nursing students. We trained the students in community outreach in the rural communities of Chaupiloma, Muyurku and Santa Monica, while delivering Christmas gifts of candies to local children, including some gospel tracts. We also provided clothing and food staples to some needy families in each community, and provided some medical consultations in Santa Monica. We thank God for the opportunity to share God's love with over a thousand children and seniors in a short visit! Several of the students had never seen living conditions in their own country and were blessed by the children. (click photo to see more) Mientras la festiva de Dia de Accion de Gracias de los EEUU, regresamos al area de Cayambe, Ecuador para tres días de ministerio medico con la ayuda de cuarenta y cinco estudiantes de enfermeria. Entrenamos los estudiantes en como servir en las comunidades rurales de Chaupiloma, Muyurku and Santa Monica, mientras distribuiendo regalos navideños de dulces y tratamientos del evangelio para los niños de alla. También proveemos ropa y alimentos a algunas familias en cada comunidad, y algunos consultas medicas en Santa Monica. ¡Agradecimos a Dios por la oportunidad de compartir su amor con más que mil niños y viejitos en este poco tiempo! Algunos de los estudiantes nos compartieron que jamás han visto los condiciones de vivir en su propio país y fueron bendecidos por los niños. (Haz clic en foto para ver más)
Thanksgiving Outreach, Northern Virginia, November 21, 2015
Ministerio para el Dia de Accion de Gracias, Virginia del Norte, 21 de Noviember 2015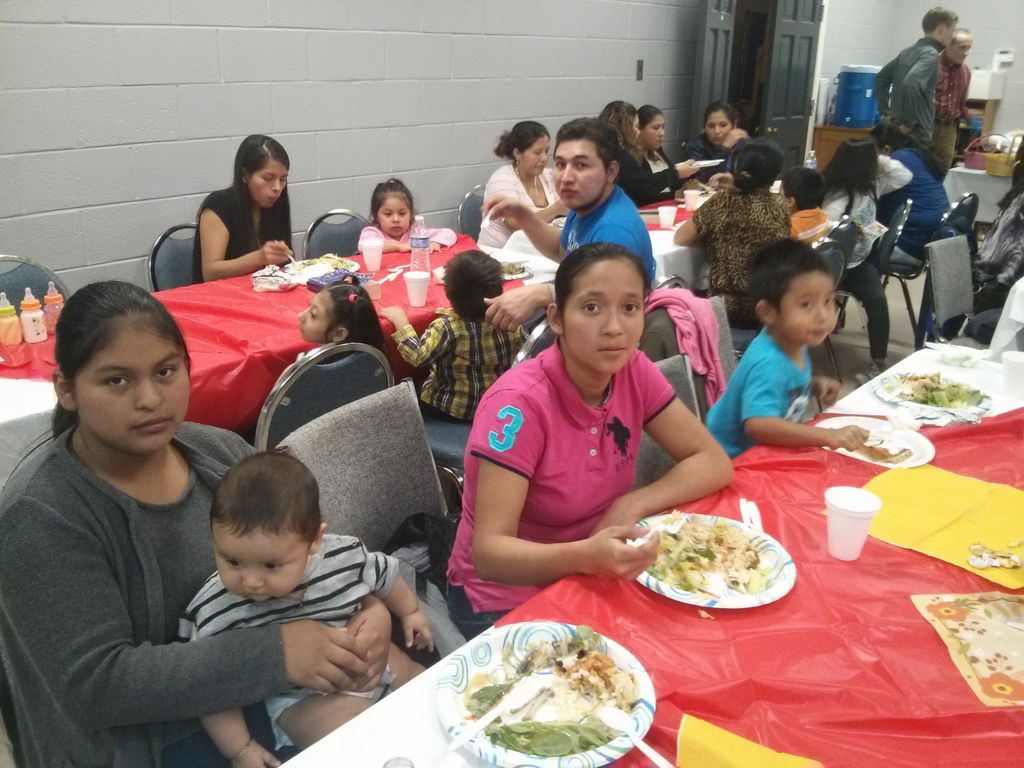 On November 21, we helped to provide 60 gift boxes of Thanksgiving boxes to needy families in Northern Virginia. Each box contained a turkey, a 10 pound bag of potatoes plus additional fixings for a traditional Thanksgiving dinner. In addition, each box included a copy of the Gospel of John in English and Spanish. We delivered boxes to needy families we know from the hospital, from the Culmore neighborhood, and from Alexandria. We also shared a dinner with 55 guests, including needy families and volunteers. (click photo to see more)
Ministry in Santa Monica and Muyurco, near Cayambe Ecuador, July 1, 2015
Ministerio en Santa Monica y Muyurco, cerca de Cayambe, Ecuador, 1 de julio 2015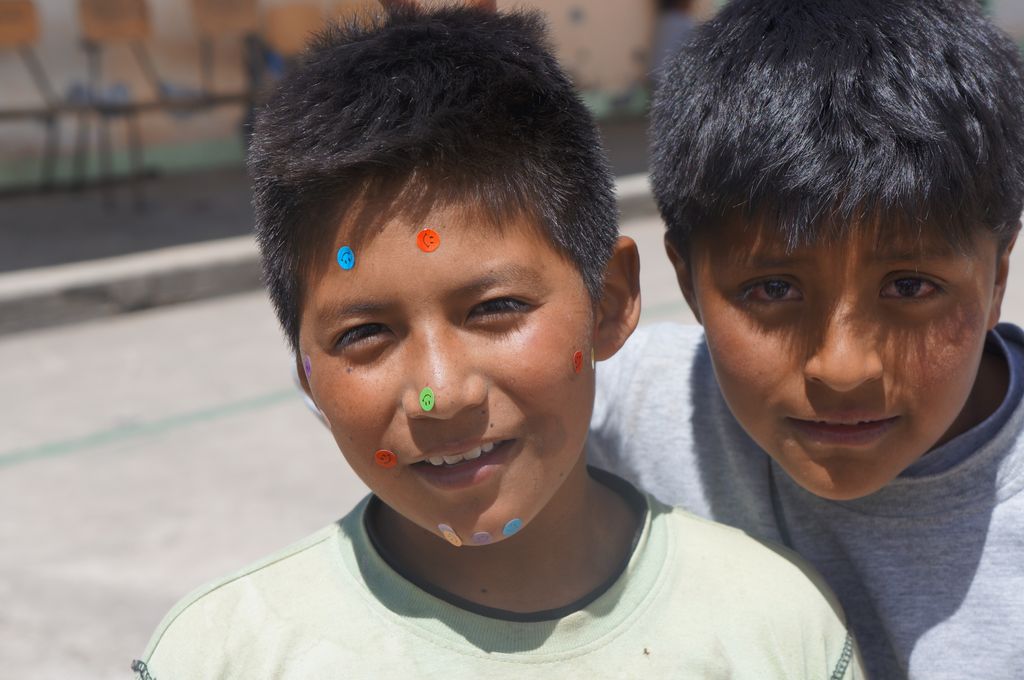 On July 1, we spent an extra half day ministering to patients in Santa Monica and activities with the children. With the assistance of eight new nursing student, we were able to serve about dozen additional patients there. In the afternoon, we relocated to Muyurco for a few more hours of attending patients and singing worship songs with patients and children. (click photo to see more) En el 1 de julio, fuimos otra media dia mís ministrando a los pacientes en Santa Monica y haciendo actividades con los niños. Con la ayuda de ocho nuevas estudiantes de enfermería, pudimos servir algunos doce mas pacientes allá. En el tarde, nos trasladamos a Muyurco por algunas horas más de asistir pacientes and cantar alabanzas al Señor con los pacientes y los niños. (Haz clic en foto a ver más)
First days of mission in Santa Monica, near Cayambe Ecuador, June 29-30, 2015
Primeros dias de la mision en Santa Monica, cerca de Cayambe, Ecuador, 29-30 de junio 2015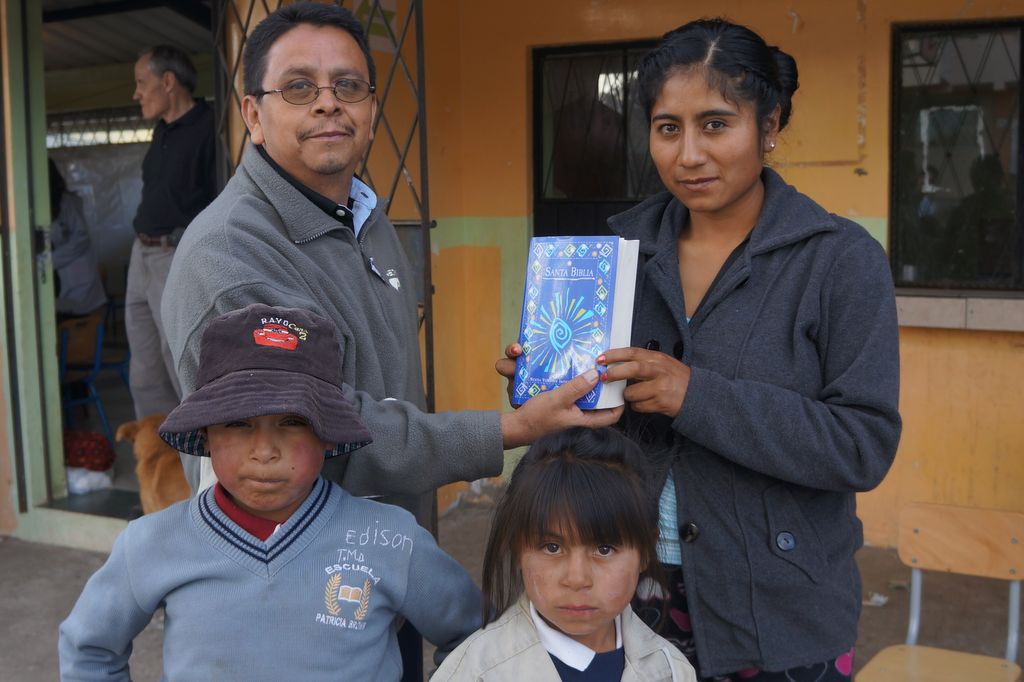 After two great days in Chaupiloma, we started serving patients in Santa Monica on June 29. This is our eleventh year serving in this community, and we feel blessed to involved in the people and the work here. Several patients and family members put their faith in Christ, as well as all nineteen of the nursing students who helped on that day! (click photo to see more) Despues de dos dias buenas en Chaupiloma, empezamos a atender pacientes en Santa Monica el 29 de junio. Este es el año undécimo de servir en esa comunidad, y sentimos bendecidos a estar involuncrados en la genta y la obra alla. Algunas pacientes y miembros de sus familias confiaron en Cristo, así como todos los diez y nueve estudiante de enfermeria quien nos ayudaron ese dia! Haz clic en foto a ver más)
First days of mission in Chaupiloma, near Cayambe Ecuador, June 25-27, 2015
Primeros dias de la mision en Chaupiloma, cerca de Cayambe, Ecuador, 25-27 de junio 2015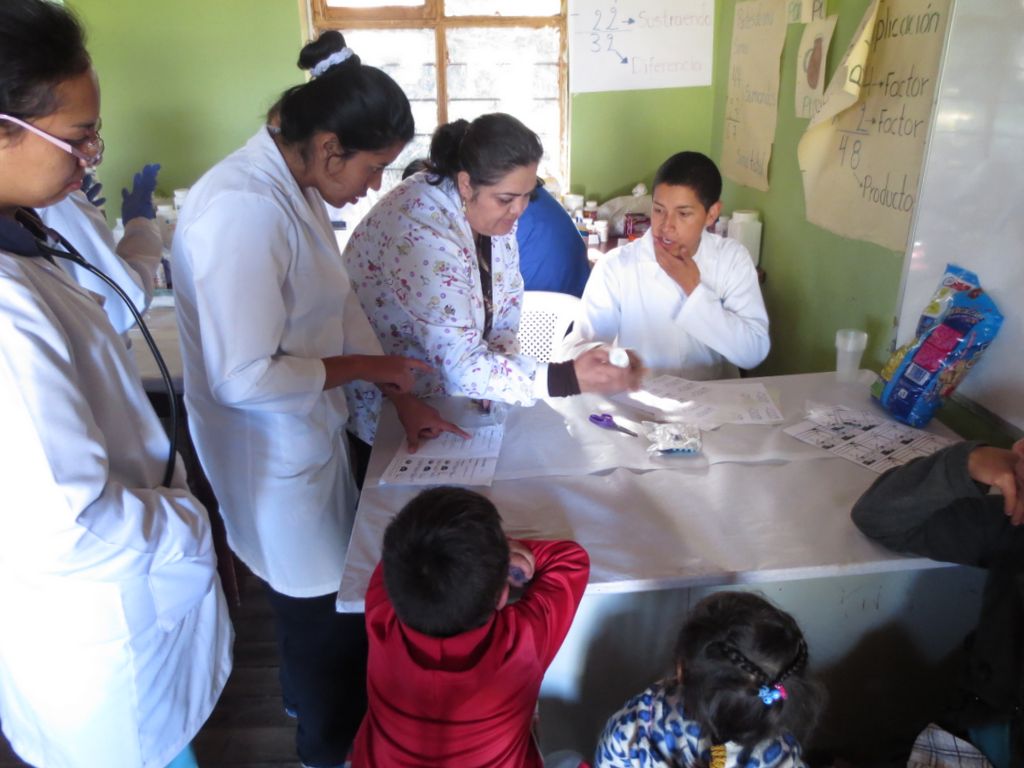 Our US and El Salvador team arrived safely in Ecuador early in the morning on Thursday, June 25, although missing one piece of luggage. After a rest, we organized the donated clothing, medical supplies and children's games for the three communities. Some friends from Ecuador arrived on Friday, June 26, to help out. The team traveled to Chaupiloma to set up the community center for the clinic for the following days. (click photo to see more) Nuestro equipo desde los EEUU y el Salvador llegó seguro a Ecuador muy de la mañana jueves, el 25 de junio, aún falta una maleta de suministros. Despues de descansar, organizamos la ropa donada, suminitros medicos y juegos para los niños para los tres comunidades. Algunos amigas de Ecuador llegaron viernes, 26 de junio, para ayudar. El equipo viajó hacia Chaupiloma para preparar la sala del centro de la comunidad para la jornada medica venida. (Haz clic en foto a ver más)
On Saturday, June 27, we started the ministry in Chaupiloma. Thirteen nursing students arrived from Quito in the morning, as well as another doctor to help us. There were other community activities that day, and few people arrived in the morning for the medical services. Several team members visited families nearby to invite them to the clinic and the vacation Bible school. Over the afternoon a couple dozen additional patients arrived, as well as some twenty children. The pastoral leaders on our team, Kennedy, Arelzo and Juanita, had conversations and prayers with several people, leading a some of them to faith in Christ. El sabado, el 27 de junio, empezamos el ministerio en Chaupiloma. Trece estudiantes de infermería llegaron desde Quito en la mañana, así como un otro médico para ayudarnos. Ya fueron otros actividades para las comunidades, y poca gente llegaron en la mañana para la jornada medica. Algunos miembros del equipo visitaron las familias acerca para intivarles a la jornada y la escuela biblica vacacional. Sobre la tarde algunos viente pacientes más llegaron y algunos veinte niños. Los lideres pastorales del equipo, Kennedy, Arelzo y Juanita conversaron y oraron con algunos, llevando algunos a confiar en Cristo.
Please pray for the following: Ore por favor por lo siguiente:
We will have a different group of nursing students helping each day. Please pray that each student learns mercy and compassion in serving the needy families who visit us and they each one learns to trust Christ as their savior.

Vamos a tener un grupo diferente de estudiantes de enfermeria ayudando cada dia. Pide al Senor que cada estudiante aprenda misericordia y compasion mientras apoyando las familias necesidades y que cada uno confie en Cristo como salvador.

Please pray for the logistics, for God to guide us to people in the communities who want to grow in their faith. Continue to pray for health and safety for all invovled.

Por favor, oren por las logisticas, que Dios nos guia a unas personas que quieren crecer en su fe. Siga orar por sanidad y seguridad por todos involuncrados.
Preparations for Medical Mission to Ecuador, June 24 - July 4, 2015
Preparaciones para la mision medica a Ecuador - 24 junio - 4 julio 2015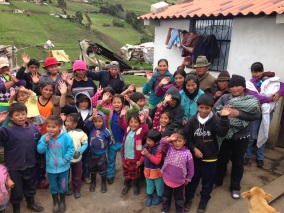 Please pray for us as we are preparing for the upcoming medical mission to rural communities in the vicinity of Cayambe, Ecuador between June 24 and July 25, 2015. With the Lord's help and with your prayers and support, we will return for our eleventh annual mission to provide basic medical services to needy families, clothing, and a Vacation Bible School for children as we share the hope of Christ with all involved. This year we hope to several Ecuadorans participate in the mission, as well as a family from El Salvador. Please pray that God will provide for all needs and logistics of the mission, and empower us to be His hands of service to the people of these communities. Pedimos sus oraciones mientras preparamos para la venida mission medica en las communidades alrededor de Cayambe, Ecuador entre 24 junio y 4 julio 2015. Con la ayuda del Señor y con tus oraciones y apoyo, volveremos para la decima mision anuario para proveer servicios medicos en forma basica a las familias necesidades, ropa, y Escuela Biblica Vacacional para los niños mientras compartamos la esperanza de Cristo con todos involucrados. Este año esperemos tener algunos Ecuatorianos a participar en le mision, más una familia de El Salvador. Oren, por favor, que Dios provea todos los suministros y logisitcos para la mision, y nos enfortelece a ser sus manos de servicio entre la gente de la comunidad.
Health Fair and Outreach, Centreville, VA - May 2, 2015
Feria de Salud y ministerio, Centreville, VA - 2 de Mayo 2015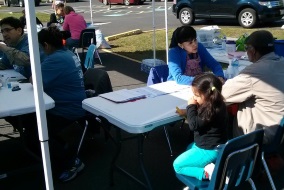 On May 2, we partnered with the Centreville Baptist Church in their annual outreach event called "SERVE OUT". While other church members collected food donations from around the neighborhood and provided donations clothing to needy families, we provided health education, free medical consultations and the gospel to about 25 visitors.En el 2 de mayo de 2015, nos asociamos con Centreville Baptist Church en su ministerio anual se llama "SERVE OUT" en Centreville, Virginia. Mientras los demas de la iglesia recogieron alimentos donados y donaron ropa para los necesidados, nosotors proporcionamos educación para la salud, consultas médicas gratuitas y el evangelio para acerca de 25 visitantes.
Health Fair and Outreach, Mappsville, VA - April 26-27, 2015
Feria de Salud y ministerio, Mappsville, VA - 26-27 de Abril 2015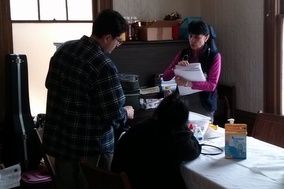 In April 2015, we partnered with the Spanish-language congregation from Groveton Baptist Church in their outreach at the Iglesia Bautista Hispana (Hispanic Baptist Church) of Mappsville, Virginia. We provided health education and free medical consultations to over 60 attendees, as well as providing an outreach for the children in the community.En abril de 2015, nos asociamos con la congregación hispana de Groveton Baptist Church en su ministerio con la Iglesia Bautista Hispana de Mappsville, Virginia. Proporcionamos educación para la salud y consultas médicas gratuitas a más de 60 asistentes, así que alcanzmos a los niños de la comunidad.